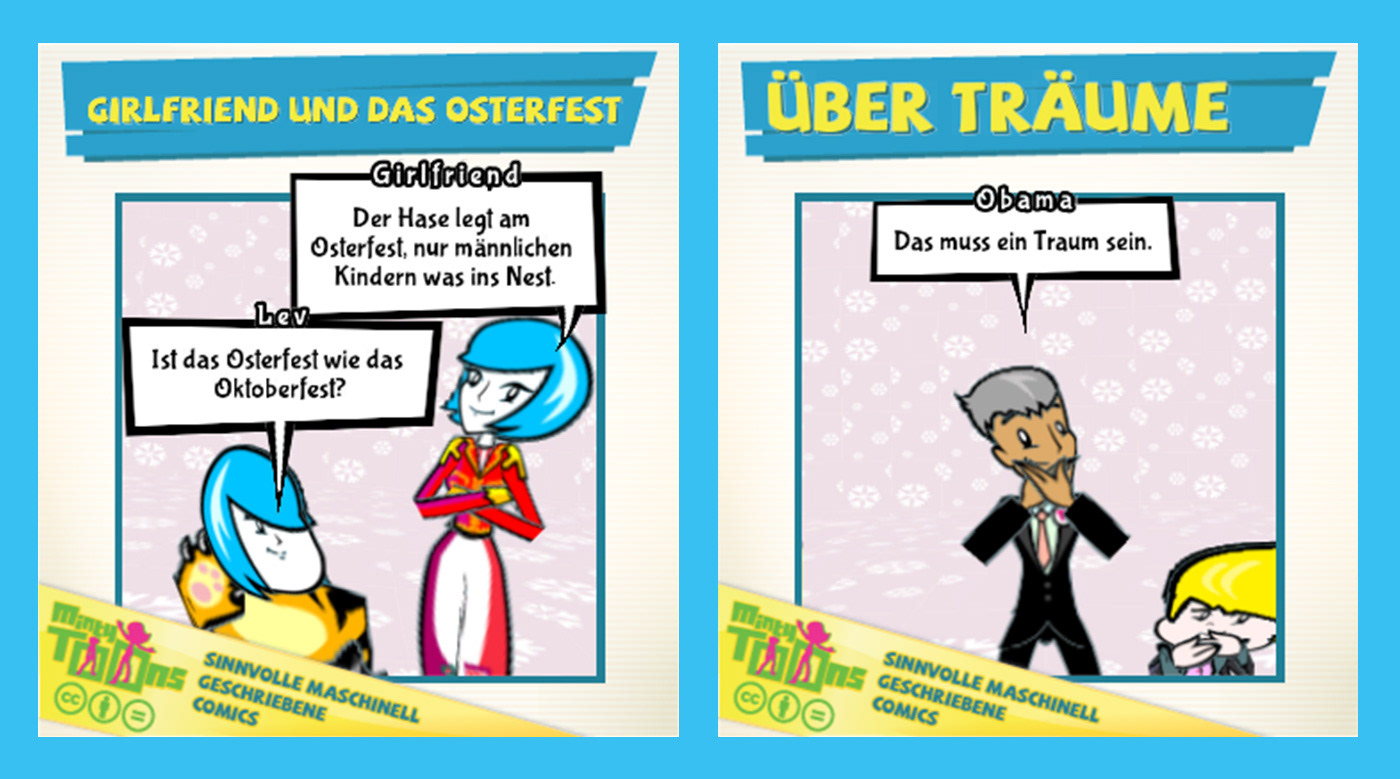 Minty Toons presents a completely new way of communication. It reverts the relation between man and machine - via cartoons.
To find out how intelligent machines are, a commonly used method is to engage it in a dialogue with a human being - can it create meaningful sentences and react to our inquiries, emotions and subtle, culturally shaped codes of communication?
Minty Toons asks these questions in reverse: Customized cartoon characters are fed with machine-made content and we are asked: Can we find truth in them? Will creativity lead us to the meaning behind a computer's balderdash? Is there a ghost in the shell after all??
See also the successor-game Minty Pic.
What are you doing in the game?

With a simple swipe-and-click method, the facebook app will create funny, meaningful, highly political, sweet or poetic situations that can be used inside or outside the game to share it on social media with your friends and the world. You can choose topics ("Relationship" "Office" "Hobby" …) and items that will be incorporated into the cartoon.
You browse and rate comics of others and receive coins for it. You find, purchase and arrange items for special comic-topics. Changing the situation changes the comic. You find the cat, place it in your flat and press "make comic" again. Awesome? Post it on your wall! You place your girlfriend next to you and create another comic! Good? Send it to her! Ask the oracle about your future, or send your friend to the shrink. Like the diagnosis he gets? Send it to him!
The first comic about the player and his or her friends is ready to post after ten seconds of gameplay
Comics are valuable in the game (achievements for different kinds of comics)
They're valuable in Facebook (it's your personal comic, post it!)
They're valuable for your friends (addressed in the comic, post it to them!)
Order t-shirts of your character/comic with one click
Behind the toons
Minty Toons is based on the award-winning design of the forerunner game Papermint which presents the comics in a joyful, quirky and completely un-machine-like style. Behind the seemingly simple app lies a complex language simulator, "Minty Script",  that works to fit the complicated German language into grammatically correct sentences. The game offers in-game purchases of items and situations, but also "real" items outside the game: Cartoons can be printed on shirts, cups or snow-globes.