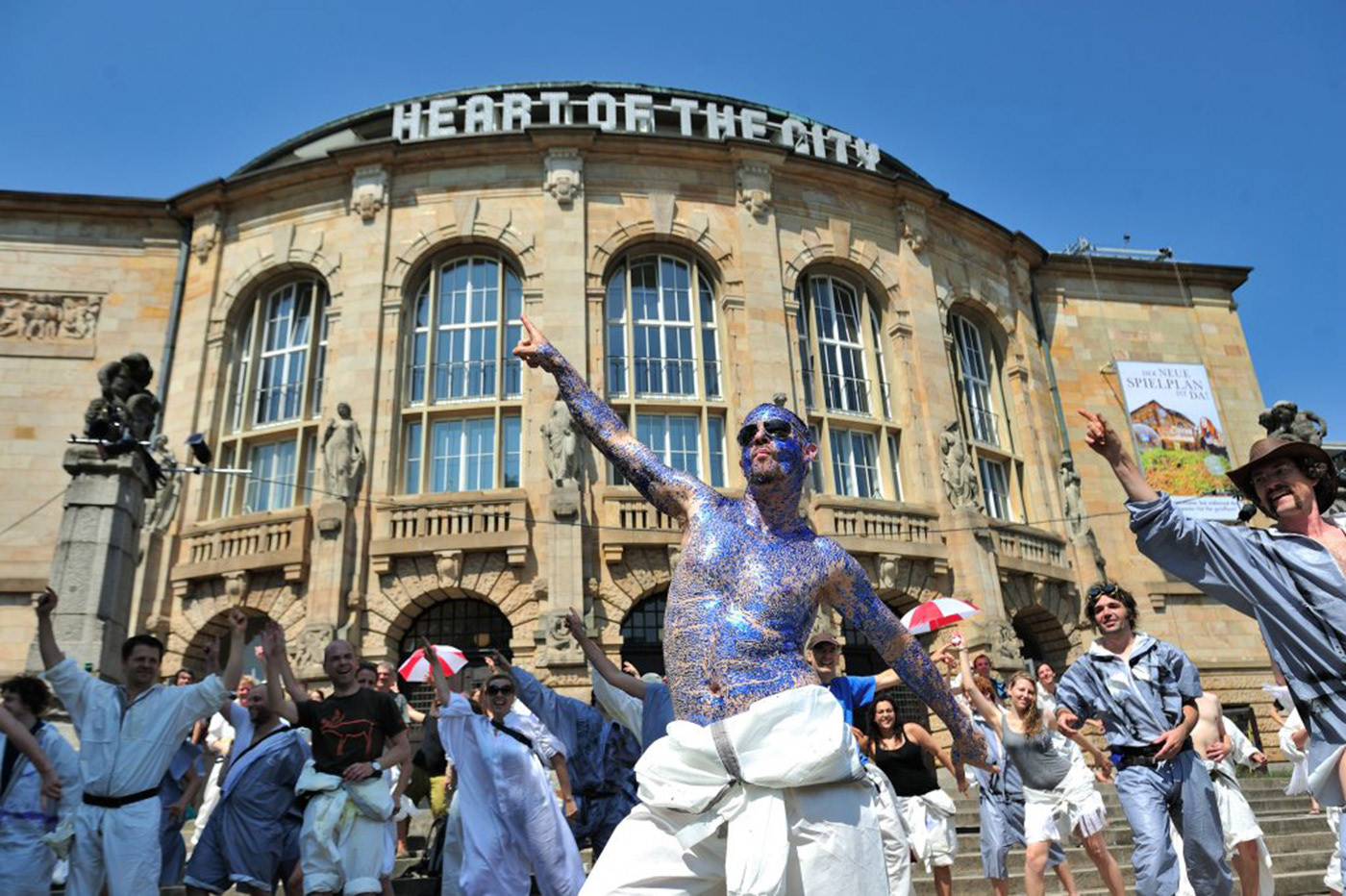 It takes not seven, but one day to build a world
This was proven in the large-scale social game "Regiodrom". For 24 hours in July 2013, the Theater Freiburg turned into an interactive playfield.
250 settlers were invited to reinvent society - a mix of theatre, social experiment and gameplay. Within an extremely well-planned game narrative by Lev Ledit, the participants actively remodelled the world with their (inter)actions.
Equipped with nothing but their toothbrush and a sleeping bag, the settlers land in the new world. Soon, they are confronted with questions of survival: Blossoms are to be earned, work in the mines and The Corporation to be done, villages to be built, social structures to be negotiated. The goal: highest possible results on the happiness-index, which is constantly being evaluated.
Existential needs become projects, money becomes politics, trading generates values. Via screens in the whole arena, Regiodrom-TV keeps the settlers up-to-date with news from their world. Meanwhile in the underworld, corruption, cockroach-wrestling, pig-boxing and other mayhem ensue. Mayors are elected and overthrown. A village introduces socialism by decree. Can it survive?
"Time and time again we questioned ourselves - why do we embrace the given conditions so quickly - that Blossoms have value, sandbags are an important resource and taking out loans should be avoided. These moments are strong, meaningful and develop the power of the game." 
(Nico Hoffmann, nachtkritik)
Inspired by the economic model of the Regionalwert AG by Christian Hiss, the game plays on, analyses and celebrates the connection between sustainability, money and happiness.